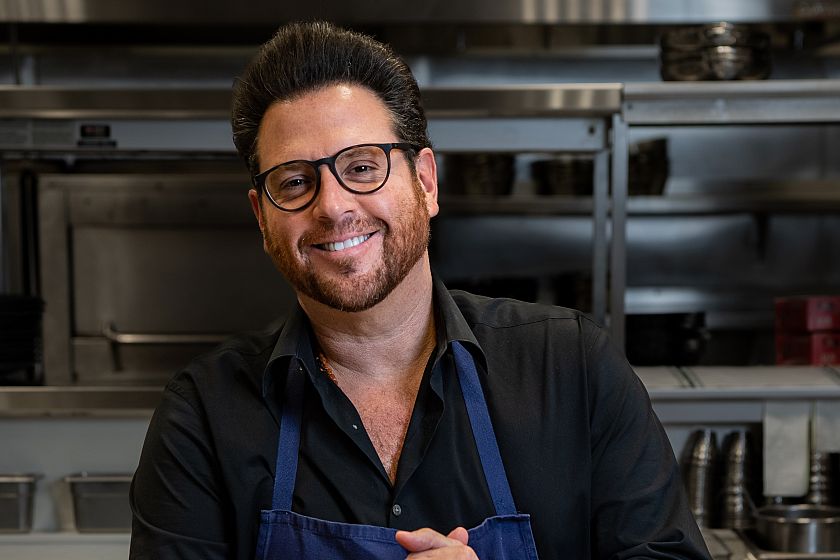 Scott Conant
Scott Conant
Scott Conant brings flawless technique and an unwavering passion to creating soulful food in a convivial atmosphere. With a career spanning more than 35 years, a portfolio of acclaimed restaurants, cookbooks, television shows and an ever-expanding brand, Conant has established himself as one of the world's leading chefs.
A graduate of the Culinary Institute of America, Conant built a reputation for outstanding leadership and culinary creativity early in his career, running the kitchens of famed Italian spots such as il Toscanaccio, Chianti and City Eatery, all of which earned glowing reviews throughout his tenure.
Conant officially put his name on the map in 2002 when he opened the beloved L'Impero in Manhattan, which garnered a three-star review from The New York Times, the title of "Best New Restaurant" from the James Beard Foundation and praise from top publications such as Gourmet and Food & Wine.
Following the success of L'Impero, Conant opened Alto, an elegant Italian restaurant in midtown Manhattan, to great acclaim, and in 2004 was named a "Best New Chef" by Food & Wine. Always looking to raise the bar, Conant eventually moved on to bring his own vision of sophisticated Italian cooking to life. While no longer affiliated, Scott opened Scarpetta in NYC, which was nominated by the James Beard Foundation in early 2009 for "Best New Restaurants in America." Conant went on to build the Scarpetta brand to national acclaim with restaurants in New York City, Miami, Toronto, Los Angeles, and Las Vegas, and published The Scarpetta Cookbook, inspired by dishes from the restaurant.
In February 2017, he opened Mora Italian, a modern osteria in Phoenix, Arizona, in April 2018, he debuted Italian steakhouse Cellaio at Resorts World Catskills in Monticello, New York, and in October 2020, Conant expanded his Arizona restaurant portfolio after taking helm of The Americano, an Italian American dining destination in Scottsdale, Arizona. A second location of The Americano opened in May 2022 at the newly renovated InterContinental Buckhead Atlanta in Georgia.
Conant is known to fans worldwide for his Food Network appearances, including his long-running role as a judge on "Chopped" for over a decade. In 2019, he began hosting the dessert-themed spinoff "Chopped Sweets" and has also served as host of "Best Baker in America" seasons 2 and 3, and frequently co-hosts "Beat Bobby Flay." In addition, Conant has made frequent guest appearances on "The Today Show," "Rachael Ray Show," "The Kelly Clarkson Show," and "Good Morning America," among others.
In addition to The Scarpetta Cookbook, Conant has published New Italian Cooking, Bold Italian, and in 2021, Peace, Love, and Pasta: Simple and Elegant Recipes from a Chef's Home Kitchen. The latter, Conant's fourth and most personal cookbook, delves into the evolution of how his cooking has changed throughout his career, and how his connection to food has strengthened because of his deep family relationships. The book showcases the foods Scott grew up with and those he makes for his loved ones today, offering restaurant-quality meals that emphasize the beauty of simple, fresh, and flavorful Italian dishes. It also includes authentic Turkish recipes as an homage to his wife Mel's heritage and features stories about his life growing up in New England with Southern Italian roots.
As Chef Conant embarks on new opportunities, he looks forward to continuing to share his enduring philosophy that emphasizes the beauty of simplicity.
Scott Conant is featured on:
CHOPPED
CHOPPED SWEETS
BEST BAKER IN AMERICA
BEAT BOBBY FLAY