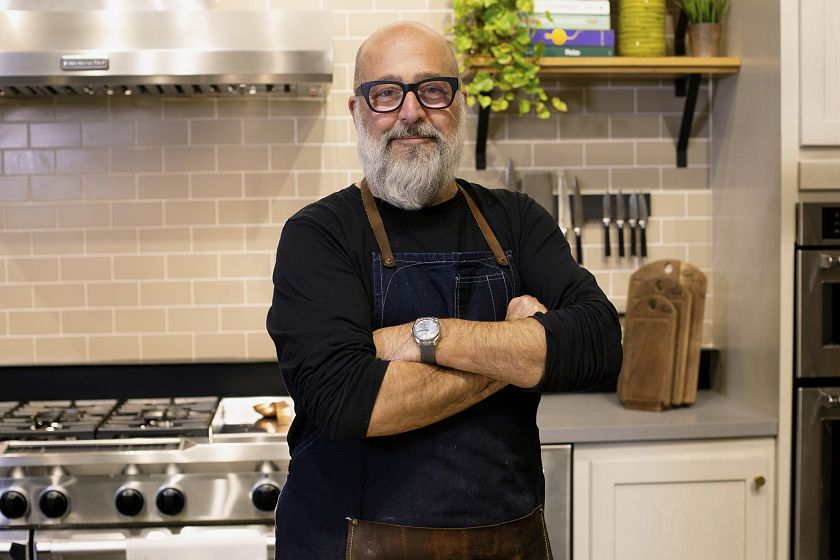 Andrew Zimmern
Andrew Zimmern
Andrew Zimmern is an Emmy-winning and four-time James Beard Award-winning TV personality, chef, writer and social justice advocate. As the creator, executive producer and host of the Bizarre Foods franchise, Andrew Zimmern's Driven by Food and Emmy-winning The Zimmern List, he has devoted his life to exploring and promoting cultural acceptance, tolerance and understanding through food. In 2020, he produced and hosted the Anthem Award-winning What's Eating America for MSNBC. In 2021, Family Dinner premiered on Magnolia Network and is now in its third season. This year, you can find him judging the epic culinary battle Iron Chef: Quest for an Iron Legend on Netflix, The Silos Baking Competition on HBO Max and Magnolia, as well his newest show, Andrew Zimmern's Wild Game Kitchen on Outdoor Channel.
Andrew is the founder and CEO of Intuitive Content, named one of the top 100 production companies in the world by Realscreen for two years in a row. A full-service production company that develops and produces television, digital content and advertisements, Intuitive Content works with a diverse group of networks including MSNBC, Magnolia, Hulu, Travel Channel, Outdoor Channel, Reelz, Discovery Science, HBO Max, Discovery +, and Food Network, as well as companies like Whirlpool, Marriott, Caribou Coffee, Sleep Number, Hy-Vee, Cointreau, The National Football League and AquaChile. In 2020, IC premiered What's Eating America, a series for MSNBC exploring the civic stories of our time through the lens of food. In 2021, they premiered Family Dinner, which follows Andrew as he discovers how the cultural, regional, and historical facets of who we are inform what and how we eat, and Andrew Zimmern's Wild Game Kitchen premiered in 2022 on the Outdoor Channel. Other IC series include Zoe Bakes, Big Food Truck Tip, Crash Test World, How to Survive a Murder, Feral and The Zimmern List, which won a Daytime Emmy Award for Outstanding Travel and Adventure Program. Currently, Intuitive has seven shows in production across a broad range of networks.
In 2015, Andrew launched Passport Hospitality, which creates unique culinary concepts and provides consulting services to restaurant and retail projects. Passport Hospitality oversees or partners with several brands, including the quick service concept Andrew Zimmern's Canteen at Target Field in Minneapolis and the hot dog and burger concept Patty & Frank's in Atlanta's Chattahoochee Works food hall. Andrew has collaborated with Minneapolis chef Gavin Kaysen to create KZ ProVisioning, a catering company for professional sports franchises, including the NHL's Minnesota Wild and the NBA's Timberwolves. He has also partnered with Gansevoort Co. to develop experiential food halls in The Dayton's building in downtown Minneapolis. Passport's largest effort to date is overseeing all food service contracting and development for the Milken Center for Advancing the American Dream in Washington DC, opening July 4, 2024.
Andrew has written four books—The Bizarre Truth, Andrew Zimmern's Bizarre World of Food, Andrew Zimmern's Field Guide to Exceptionally Weird, Wild & Wonderful Food, and Alliance of World Explorers, Volume 1: AZ and the Lost City of Ophir, which won the Gold IPPY in Juvenile Fiction. Andrew sits on the board of directors for Services for the UnderServed, Project Explorer, Charlize Theron Africa Outreach Project and Soigne Hospitality. He serves on City Harvest's Food Council, is the International Rescue Committee's Voice for Nutrition and a Goodwill Ambassador for the United Nations World Food Programme as well as The Nature Conservancy. He is a founding member of the Independent Restaurant Coalition, fighting to save restaurants affected by Covid-19 and a co-founder of the Coalition for Sustainable Aquaculture. In 2022 he was a contributor to the White House Strategic Policy for Hunger, Nutrition and Health and a contributor to the White House Conference on Hunger, Nutrition and Health. He resides in Minneapolis.
Andrew Zimmern is featured on:
BIZARRE FOODS
BIZARRE FOODS AMERICA
THE ZIMMERN LIST
ANDREW ZIMMERN'S DRIVEN BY FOOD
WHAT'S EATING AMERICA
ANDREW ZIMMERN'S WILD GAME KITCHEN
IRON CHEF: QUEST FOR AN IRON LEGEND
THE SILOS BAKING COMPETITION
FAMILY DINNER