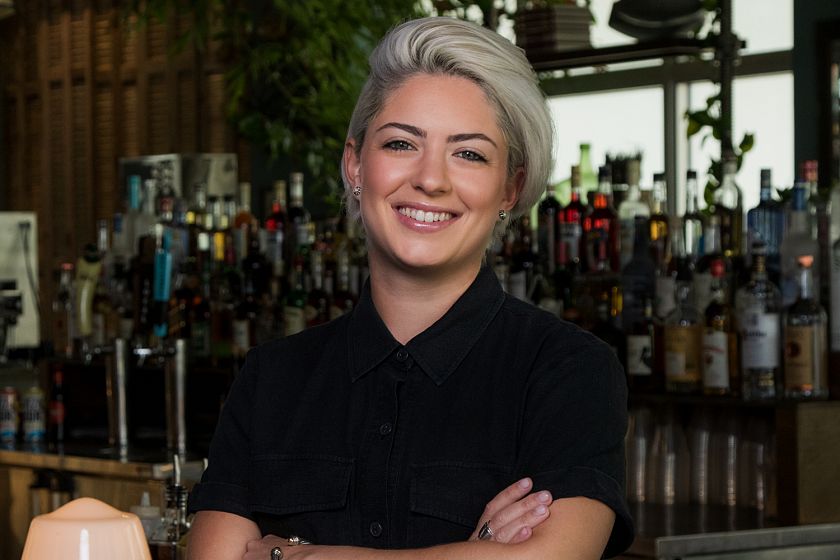 Eileen Andrade
Eileen Andrade
Before establishing herself as one of Miami's most lauded young chefs/restaurateurs, Eileen Andrade spent much of her childhood in the kitchen working with family at their legendary Islas Canarias, one of Miami's most iconic and culturally-relevant Cuban restaurants.
From an early age, Andrade displayed a keen interest in creative endeavors, especially those with a gastronomic bent. For years she worked in the family restaurant, learning the ropes and absorbing the sights, smells, stresses and sensations of restaurant life. Seeking an opportunity to strike out on her own – with her family's blessing, Andrade (with her brother Jonathan) launched the CUBAN CUBE food truck. Described by the chef as both "exhausting and thrilling," as well as a "self-taught cooking school on wheels," the truck quickly gained popularity on the streets as well as at event appearances and food truck rallies.
It would be a random trip to South Korea in 2013 that would change the trajectory of her life. "I had lived in a fantastic and loving 'Miami bubble' my whole life," comments Andrade, who was born and raised in the 305 and still calls Miami home. "The trip to South Korea was an amazing and rather unplanned adventure that blew open the doors for me and changed how I cooked and thought about food forever."
It was during her Asian gastronomic gallivanting that the chef first encountered umami and felt her palate expanding with possibility. "I had never really had authentic Asian food until this trip so it was like the blinders came off. South Korean food has such nuance, depth of flavor and soul -- all of it enhanced by amazing technique."
Enter Finka Table & Tap, the chef's wildly-successful restaurant and craft cocktail bar, which opened to practically immediate acclaim in the summer of 2014. Here, in a sunlit, airy space in suburban West Miami -- the same neighborhood the chef and her kin have called home for decades -- Andrade struck gold, introducing a creative menu of Korean-influenced Cuban cuisine augmented by a craft cocktail menu unlike anything in town. "My business model was not to open something so drastically different from everything in the area that I would stand apart by comparison," Andrade admits, though she acknowledges that a contemporary restaurant melding Latin and Asian cuisine in her particular neighborhood was a definite gamble. "It just so happened that everything that inspired me in the food and drink world at that time -- including the restaurants I frequented, the bars I haunted and the people I knew -- were the building blocks of what would become Finka. And luckily enough it was embraced by the community. It's hard to believe we're closing in on a decade." What isn't hard to believe is that her trailblazing concept, soulful cooking, affable nature and sartorial flair quickly helped position Andrade as one of the Magic City's hottest chefs on the rise.
In November 2017, Andrade's passion for pushing culinary boundaries led her to open a cozy new restaurant in the same plaza of her parents' legendary restaurant. This new venture, named Amelia's 1931 in honor of her grandmother (who was born in Cuban in 1931), was an intimate Miami boite with the homey ambiance of an American diner and the spirit of a casual Cuban eatery. Media praise and professional success led Andrade to further expansion in the exploding real estate market in Doral, Florida where she introduced Barbakoa by Finka. Located at The Doral Yard and inspired by Korean barbecue, Barbakoa by Finka showcases a mélange of Cuban, Korean, and Peruvian cuisines, much of it kissed by open flame and touched by smoke.
The decision to close a restaurant and reinvent it isn't one made lightly. But that is what Andrade did in the spring of 2023 with Amelia's 1931. During COVID she obtained the dry-cleaning space next door with the vision of combining that space and the original Amelia's 1931 footprint to create an expanded version of the diner concept but as she and her team worked on the dry-cleaning space an idea took hold. "We had success with Amelia's 1931 but like with Finka years ago, I asked myself what I wanted to create now versus expanding on what I created then. The result was a more refined but not necessarily 'fine dining' restaurant with a cool speakeasy vibe that still felt like a fun local spot."
Opened June 2023, this elevated and elegant incarnation is more than double the original size and decidedly more cosmopolitan than its previous incarnation; featuring a sexy and sophisticated new look, full bar, an intoxicating array of signature cocktails and a completely new menu and menu concept. The new dining room's windows mimic a vintage dry cleaner, complete with a hanging wall of cleaned and bagged clothes –the speakeasy-style "curtain" through which guests enter the dining room. There is a magic evident at the new Amelia's 1931, an allure that promises a sensational surprise every turn. Not a simple trick at all to pull off at any restaurant, let alone one off-the-beaten path.
The redesigned Amelia's 1931 has quickly become a draw, locals and critics besotted by Andrade's menu not to mention the restaurant's bodacious beverages and whimsical design. With a third gem in her culinary crown, Andrade's star continues to rise with the chef at once grateful and content while forward-looking. "I'm thrilled with how far we've come as a family and as a team," she concludes. "Every day gives us another chance to make someone's heart smile," a motto she often cites when it comes to the hospitality game, "but also to improve and get better. We've come a long way in almost ten years and I'm excited to see what the future holds."